Why Is Choosing a Venue So Important?
Your venue decision will have the biggest impact on your budget, on your audience and on the overall performance of the event. It can make or break your event and as it is a core decision, getting it right is crucial.
1. Know your Goals
Whether you are planning a tradeshow, meeting or conference, you have to start by working out your goals.
Who the target audience is, how many attendees there will there, what dates are required and what location is needed, will all obviously have an impact on the venue chosen.
Beyond these necessities, it is also important to know the purpose of the event and what impression you therefore want to give.
Is the aim of your event to educate your attendees, provide them with a networking opportunity or introduce them to a new service or product?
Knowing the reason for the event will help you select the right venue, one which aligns with the overarching event goals.
For example, if one of the goals of your event were to increase the exposure of the sponsors, then it might be a good idea if you sourced a venue that had an area that was large enough to accommodate a welcome booth for the sponsors. This would allow them to be highly visible to the attendees on entry.
2. Transform your venue with Pinterest
A venue may need to be transformed to make it work for your audience and your goals.  For example, your event may require audience participation. It may not be a space that sparks creativity and encourages your attendees to interact. You may therefore need to transform your venue into a more exciting space using lighting, furniture and ingenuity.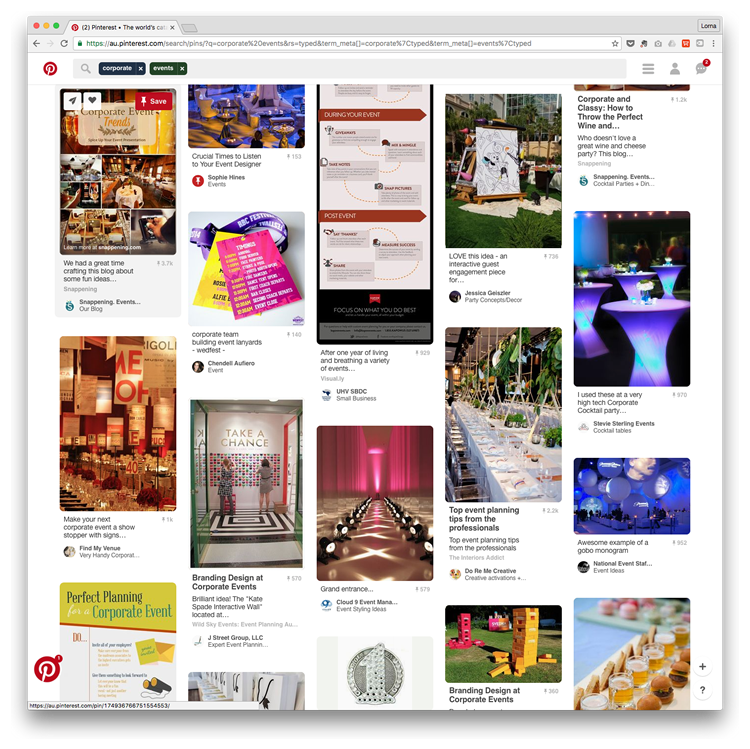 Pinterest is a good place to start
Pinterest is a an online photo-sharing website which allows you to gather together and manage photo collections. It has hundreds of ideas that you could use to transform spaces into perfect venues.
Create an account and search for relevant topics. When you have found posts that you want to keep, you can then create idea boards which will allow you to gather and organize your ideas in one place. You can then go about using these ideas to customise your venue to suit your event purpose.
3. Think about your lighting
Lighting is an essential ingredient and can make or break the mood of an event. Different forms of lighting can be deployed depending on the event purpose.
For example, up lighting can give a basic venue, such as a conference centre or empty ballroom, much more character, which is essential for events such as charity dinners and award nights. Gobos can be used to highlight a sponsor, and pin lighting can be used to focus attendees on a particular part of your event – for example the stage, an exhibitor or a centerpiece.
If you manage colours and different intensities of lighting effectively, it can help highlight the important elements of your event, while supporting the theme and boosting the ambience.
4. Furniture placement can be crucial
The way you place the furniture can have an enormous impact on how the attendees interact. Think first how you want the to interact and then design the room with this in mind.
For example, bar tables and chairs can encourage mingling – great for networking, whilst small seating areas can encourage more in depth, longer conversations.
The design approach you adopt will impact the mood of the event. For example, a growing trend is a minimalist design approach, which can often improve traffic flow and increase interactivity among attendees, great for events with a huge audience.
Whichever way you go, it is important to put yourself in the shoes of your attendees. Visualise how you want them to move through the venue from entrance to exit – placing the furniture to achieve the right flow.
5. Tip five: Getting there
Accessibility of an venue is of course an important consideration. However, a good tip in this regard is UberEvents.
UberEVENTS is a great tool. It allows event organisers to purchase guest passes for their event attendees. Event planners can set the date, time and location parameters for pick up and drop off of attendees.
By simply registering at www.uber.com/events, guests receive a pass that they can use when they take an Uber to and from your event.
6. Tip six: Match concept with venue
Anyone for Breakfast? When it's presented this beautifully it's not surprising that AMP had a full house for every session on their 'My North' roadshow, touring five states earlier this year.
works.com provided an end to end service which included sourcing and booking appropriate venues, menu selection and registration requirements.
Using a wide screen format with custom graphic content created an engaging presentation and striking backdrop for the event.
Just to show that we leave nothing to chance, Dan personally taste tested the breakfasts in each state …
In conclusion
Always remember that the choice of your event venue can make or break your event. So plan wisely!
For your next EXCEPTIONAL CORPORATE event – contact us